Education Sec. hails in-state tuition for undocumented students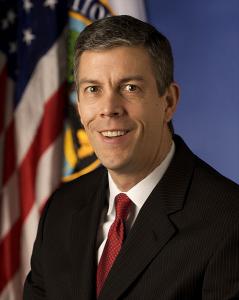 November 9, 2011
The granting of in-state tuition rates to the children of illegal immigrants has received the valuable endorsement of Education Secretary, Arne Duncan. Duncan said he had been encouraged by the actions of more than a dozen states in giving students who had been brought to the US illegally as children an equal chance of getting a good education. In an interview with the Associated Press, he specifically cited the actions of Rhode Island, where the state board of governors unanimously voted to bring in the measure in the fall semester of 2012.
"They are either going to be taxpayers and productive citizens and entrepreneurs and innovators or they are going to be on the sidelines and a drag on the economy," Duncan said.
He added that the United States is their home - where they have been able to be educated and where they have taken on school leadership roles - and that the country's policy towards them has been backward for far too long.
The National Conference of State Legislatures said that California, Texas, New York, Utah, Washington, Oklahoma, Illinois, Kansas, New Mexico, Nebraska, Maryland and Connecticut are the other states that currently have the in-state tuition rate provision in place.
In stark contrast to this, Arizona, Colorado, Georgia and Indiana specifically ban the children of illegal immigrants from paying in-state tuition rates, while South Carolina and Alabama have outright bans on the children of undocumented immigrations attending public post-secondary institutions.